PHYSICAL THERAPIST & ASSISTANT (PTA)
Physical therapists are well-educated and licensed health care experts who can help patients minimize pain and develop their mobility. The therapists often lower down the need for long-term use of prescribed medication and their side effects. Physical therapists are trained to teach patients how they can manage their condition themselves so that they can derive lasting health benefits. Physical therapists treat patients of every age right from the newborn baby to the oldest, having medical or health-related problems which are restraining their capability to move and work in their day-to-day lives.
Physical therapists provide services in various settings such as schools, hospitals, private practices, nursing homes, outpatient clinics, sports and fitness facilities. All PTs need to have a graduate degree or a master's degree from a certified physical therapist program before taking the national licensure examination which allows them to perform their job.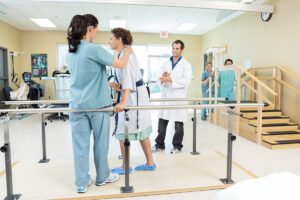 Physical therapy assistants or PTA work under the supervision of physical therapists. They help physical therapists on a daily basis which includes assisting patients during rehabilitation. PTAs primary job is to help patients who are getting better from diseases and injuries to develop mobility, enhance physical strength, prevent or lessen physical disability and manage pain.
---
The Profession of Physical Therapy
Physical therapist assistants offer therapeutic procedures by utilizing manual exercises; instructing, motivating, and maintaining patients in performing physical activities, such as non-manual exercises, and daily-living activities; and also in using supportive devices like crutches and canes.